Jan 24, 2014
All lobbies now run on signed applets. Please change any lowered security settings back to normal:
- If you had changed your Java security settings to Low/Medium you can change it back to High (recommended) - If you had added an exception for games.asobrain.com in your Java security settings you can remove it.
Here's the new one time request for permission to run: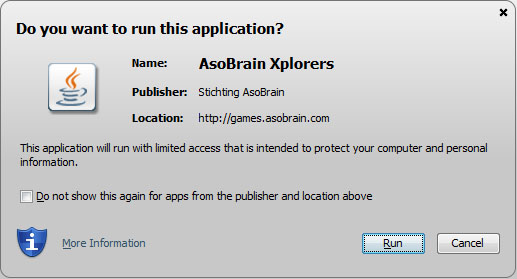 Jan 23, 2014
The newly signed applet is available for testing in the Xplorers non-ranking lobby 2 and Map Competition Lobby. Please report any problems on the forums. If I do not get any problematic feedback I will probably update the rest of the lobbies tomorrow.
Jan 23, 2014
Our certificate has been approved and issued. I have already signed a first applet and the signing seems to work.
I am currently working out the details.
Jan 08, 2014
We have ordered a Code Signing Certificate for our Java applets.
On short term, this will get rid of the annoying security warnings.
In the long run, it will enable us to continue offering our games as we do now. I fear that without the certificate, AsoBrain games as we know it will be forced to shutdown.
We are currently waiting for approval. I will keep this newsitem updated as we go along.